Dropfoods smart vending machine features
Dropfoods' Technology
Machine's key strengths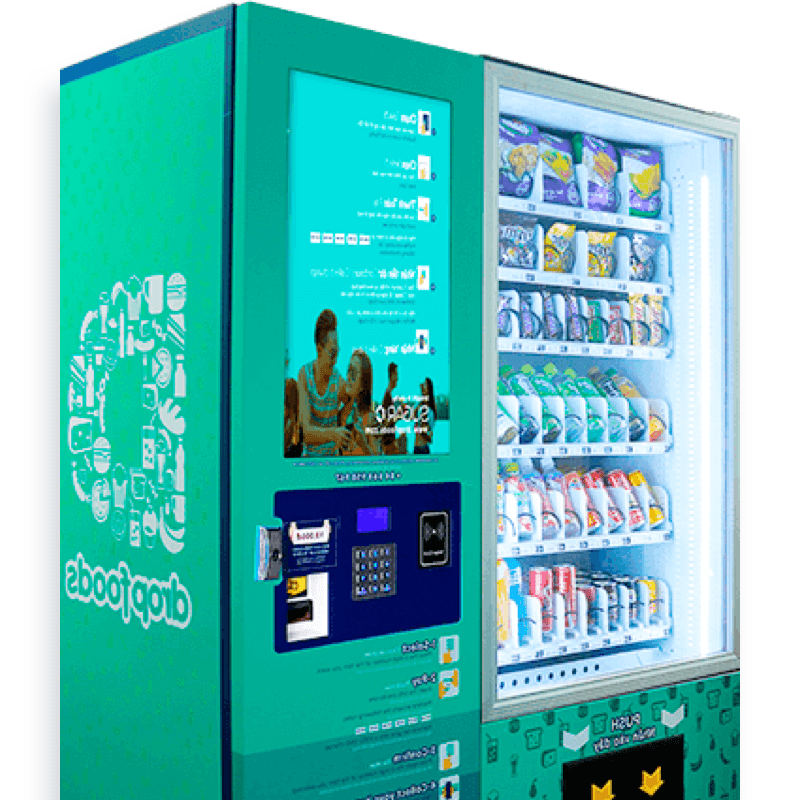 Key features of Dropfoods
Intelligent Vending Machine
32 inch touchscreen at vending machine

32" LCD Touchscreen

Dropfoods Vending Machines are trendy looking and they are placed in areas with high foot traffic. The 32" LCD screen of the machine gives you an excellent opportunity to brand your products and increase your products' awareness and visibility by placing images and videos on the display. Moreover, the big touchscreen creates a modern and easy buying experience.

Online payment with Dropfoods app

Dropfoods App

Our Dropfoods App offers customers a convenient way to purchase snacks and drinks at our machines. Once downloaded, users just need to register with their names and mobile phone numbers and there will be no need to have cash at hand anymore.

Phone Top-up for Dropfoods app

Mobile Phone Top-Up

The Mobile Top-Up function is an innovative feature that our machines offer. Customers can conveniently top-up their mobile phone credit either directly at the Dropfoods Vending Machines or via the Dropfoods App.

Vending machine throughout 24/7

Automatic Operation 24/7

Dropfoods Vending Machines offer snacks, chocolates, drinks and a large variety of other F&B options. We maintain our inventory level so all your favourite snacks and drinks are available 24/7.

Diverse snacks and drinks at Dropfoods vending machines

Customisation

Dropfoods Vending Machines are highly customisable to ensure that the demands of our customers are always met. Get in touch with us for more details. Get in touch we for more details.

Maintenance and repair service of Dropfoods vending machines

Efficiency in Operation, Service and Support

We have an experienced and well-trained operation team that ensures a smooth and efficient day-to-day operation. Our services include but is not limited to:

Free refill.
Free maintenance.
Free consultation and placement of machines.
Customer service and support.